Expansions are card collections that can be obtained by opening their respective card packs. Each expansion constitutes a major update to the game, changing the metagame significantly by introducing new card effects or classes. Expansions are not to be confused with Stories, another type of major update which offer guaranteed card rewards rather than offering new cards via packs.
The following expansions are listed in order of release: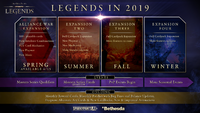 A sixth, unnamed expansion was planned for release in the winter of 2019 by Sparkypants Studios (see roadmap graphic, right). Artwork showing two Dremora was shown, indicating that the expansion may have had a Daedric theme. This update was cancelled on 6 December, 2019 when it was announced that all ongoing content development would be put on hold indefinitely.
Legends Asia launched in November 2019 with only the Core Set included. The only expansion to be released for this version of the game was Heroes of Skyrim, which came out in July 2020. It was the last major update for Legends Asia, as it was subsequently announced that the game's servers would shut down on December 31, 2020.